Managing that Office Move - the Stress Free Way
Anyone who has ever moved offices knows that it is no easy process. Here are some general tips to make your move as smooth as possible.
1. Talk to your staff. Let them know several months in advance that you are moving to a new premises. Do some research so that you can offer solutions as to transport and parking. Assign new parking spaces well in advance. Also consider how your staff's childcare arrangements might be affected by the move.
2. Contact your suppliers, your contractors and your cleaners. If your new offices are outside your contracted staff's catchment area,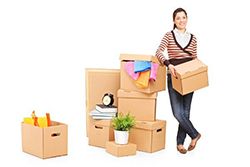 source local firms instead. Get quotes and references from a number of businesses a few months prior to your move before committing to a contractual relationship. Make sure that any existing firms you use are still able to offer the same services, and whether their costs will be lower or higher as a result of the move. Also ensure that there are adequate catering options available onsite, whether there is a dedicated work restaurant or a private sandwich company (who may be able to cater for your meetings, too).
3. Before your move, get hold of your new office blueprints and pay particular attention to electrical diagrams. If your new office has fewer electrical outputs than your old one, design a floor plan that allows all your workers to have access to the necessary number of power sockets. Pre-arrange where your staff are going to sit in your new office, and let them know well in advance. Assign each new workstation with a number so that desks and office supplies can be easily linked.
4. Location, location, location! New headed stationery is essential,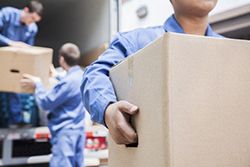 as are business cards. Let your existing clients know your new office address and phone number. Contact your telephone provider well in advance and make sure your telephone system is up and running on the day of the move. Also make sure your staff has the relevant permits, passes and entry cards prior to the move.
5. Contact industrial office removal firms and get quotes. This is not the time to use man and van removal operations to save money: you need to ensure that your movers are accustomed to large removals, and have the relevant insurance and understanding of your needs. Which is the most reliable moving firm in your area? Will they offer you a discount? And do they offer packing materials? This would be an ideal way to diminish stress, if you can source your removal company and packing materials in one place.
6. Moving office, like moving house, can be a chaotic experience. Nominate one person to bubble wrap and pack breakables.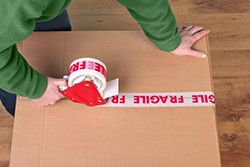 Ensure that all staff empty their desk drawers and remove personal items from their desks and the office refrigerator. Keep in close contact with your IT department and make sure they clearly label each member of staff's computer and cabling. Clearly label boxes - and remember that sometimes plastic packing crates are a better moving solution than cardboard boxes. Plan a system whereby the most important files and equipment are kept together and are moved first.
7. Last, but not least, hydrate! One way to ensure a smooth move is to make sure filtered water, coffee and tea are on tap for your workers. And a small "welcome to your new office" gathering never goes amiss!